Materials handling improvements for coal and ore
---
A new generation of coal and ore materials handling technology is being introduced to Australasian and international markets by a group that engineers chutes and complementary systems to permit faster conveyor belt speeds, greater throughput, fewer breakdowns and enhanced safety.
The Chute Technology engineering group targets problems common to many coal and ore plants and loading systems by addressing them with a combination of three skill sets: advanced engineering analysis of flow; 3D Discrete Element Method (DEM) design processes; and custom manufacturing to individual plant needs.
The combined technologies — which are applicable to existing as well as new projects — are complemented by the practical experience of each of the three principal partners in Chute Technology, who have combined experience of more than 80 years in a wide variety of resource industries including coal, iron ore, alumina and limestone across Australia, the USA, South America and South Africa. The technologies are also applicable to gold, nickel and other bulk minerals and ores.
Major benefits of the chute design technologies have already been demonstrated in service with a Western Australian iron ore producer, which increased production by 50%. Several Hunter Valley coal mines, meanwhile, are also benefiting from less wear and fewer breakdowns because of practical individualised designs produced by one of the partners in Chute Technology, long-established Hunter Valley mining industry supplier TW Woods.
Chute Technology combines the local and international manufacturing experience of TW Woods, represented by director Tom Woods, with the similarly broad engineering and technology experience of engineering consultant Dennis Pomfret of Dennis Pomfret Engineering, as well as the project management, engineering and drafting experience of design engineer Gary Telford of McKajj Services.
"We believe Chute Technology brings together a combination of skills that is unique in the marketplace, in that it brings three proven skill sets that are vital to solving typical mineral processing issues," says Woods. These issues include reducing wear, removing bottlenecks caused by clogging, minimising damaging impacts on belts and optimising operational safety and efficiency by curbing breakdowns and clean-ups.
"Existing chute designs have fundamentally been stuck in the past, because few companies have seen the need to take advantage of innovations now available with advancing technology and knowledge. But under the impact of steeply rising 21st century volumes, existing designs are breaking down incessantly — sometimes wearing out in weeks — and always slowing up production with downtime and repairs," says Woods. "As Australian and international producers set out to double and treble outputs, the underlying problems are becoming starkly apparent through breakdowns, downtime, problems with sticky material throughput, and spillage that creates clean-up and safety issues.
"Supervisors on sites or on loading facilities are often painfully aware that they have got the problem, but these issues have become so prevalent that they sometimes think of it as inevitable. It's not inevitable, just inefficient — and a matter of rectifying the problem with focused design and smarter manufacturing."
Coal prep plant transfer chute DEM modelling (for a larger image, click here).
Through their specialist company focused on the design, manufacture and optimisation of materials handling systems, Chute Technology's partners aim to deliver benefits by applying rigorous design skills and practical know-how gained by experience in mines, ports and industrial plants.
"In addition to a proven capability to design new chutes, the new Chute Technology organisation will specialise also in the retrofit of existing plants," says Pomfret, who holds patents on proven materials handling technologies.
"A principal aim will be to eliminate reliability problems and production obstacles so as to bring handling systems up to their full potential."
Value-adding services focused on by Chute Technology include:
increased tonnes per hour, with more product delivered in a shorter time at lower OPEX;
reduced wear rates, consumables, labour and downtime;
control of spillage, dust and clean-up for a safer and safety-compliant workplace;
de-bottlenecking of conveyor systems by applying new technology to upgrades.
"The three parties involved in Chute Technology have already worked together and have identified an opportunity to combine resources to form a company that focuses on transfer chutes," says Pomfret. "We are focusing our capabilities to provide a superior service, and product, that can be delivered to the customers by dedicated effort rather than a generalised engineering approach."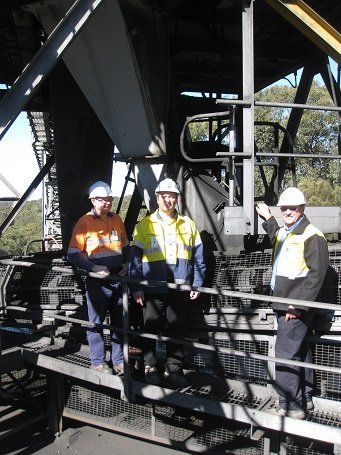 Dennis Pomfret Engineering specialises in the design, specification and commissioning of material handling equipment, transfer chutes, conveyors and hoppers for hard rock, coal and other minerals in surface and underground operations at mines and ports. Designs are supported by the application of DEM (discrete element method) modelling for transfer design and FEA structural analysis for chute platework.
McKajj Services is a multidisciplined design and drawing office which has an associated field services group for project management and construction supervision.
TW Woods Construction delivers transfer chutes fit for purpose. The versatility of the fabrication skills allows the designer scope to create the most appropriate chute geometry for the application without undue constraints imposed by manufacturing techniques.
---