Improve plant safety with location monitoring technology
Emerson Automation Solutions
By Bala Chinnappan, Business Development Manager – Pervasive Sensing ANZ, Emerson Automation Solutions
Monday, 18 July, 2022
---
A critical lesson learned from the COVID pandemic is the importance of safety — including in the workplace. Personal protective equipment (PPE) is used in many hazardous plant environments, but exposure to an airborne virus can happen in any area of the plant where PPE is not worn. Locker rooms and breakrooms, or any place where workers gather in close groups of more than two or three, become potential spreader locations.
Following established safety guidelines is one thing, but what if personnel contract the virus? In that case it becomes vital to know their movements from before they became symptomatic, as they would have been contagious and could have spread the virus to others in the plant. Production goals won't be met when too many employees are out sick.
Technology offers a solution
Recent field testing of a new location monitoring device, developed by a global manufacturing and technology company, proved to be an effective option. The location monitoring device can be clipped to clothing or worn on a lanyard. It has a chip embedded that is read from a distance by access points deployed at various locations across the facility, providing high-resolution location measurements.
The easy-to-deploy location access points are unobtrusive, small, lightweight and battery-powered. Far less expensive when compared with systems that utilise industrialised Wi-Fi access points, and their Class 1/Div 1, Zone 0 rating allows them to be deployed throughout a process plant environment. The access points are low-maintenance with batteries that have a long life.
Using proven technology, the access points communicate with each other and the WirelessHART gateways similar to the way conventional WirelessHART instrument transmitters communicate with other measurement devices.
Figure 1: Emerson's location tag, anchor and software dashboard.
To test the efficacy or value in a facility, a company can first implement it in small high-risk areas of the facility, though this technology is more budget-friendly compared to other location technologies available today.
The software component of this solution offers several useful features, such as:
Safety alerting, which allows an injured worker or one who has found themselves in an unsafe situation — or is witness to an incident — to press the user-assistance button on the tag they wear to indicate an emergency in progress at their location.
Safety mustering gives first responders real-time data on which people have moved to approved safe areas during a drill or incident.
Geofencing indicates when individuals have entered areas they shouldn't be in due to the presence of hazards or lack of specific training.
 
The software has been updated since COVID protocols went into effect to include new functions, such as contact tracing and monitoring social density.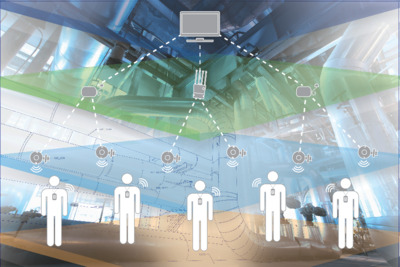 Figure 2: A visual representation of the location monitoring architecture.
Social density in a plant environment
The term social distancing has made its way into the world's collective vocabularies in recent years, and it is understood to mean maintaining a six-foot distance from other people in order to limit the spread of the COVID-19 virus.
A related term is social density, which extrapolates and translates the social distancing concept into one that is less about ensuring people keep an appropriate distance and is more about how many people are in one area of a plant at any given time. And how does that impact risk levels, not just of virus transmission but overall safety?
Knowing the location and how much time is spent where is valuable data, which can help develop employee scheduling patterns that reduce risks such as virus transmissions or potentially hazardous clustering of people doing routine work or maintenance.
Blending the technology into a real plant environment
In several locations worldwide the technology is being trialled with considerable success.
For example, a global chemical company with a facility in Asia–Pacific needed the means to ensure worker safety — a way to broadcast safety alerts and automate safety mustering in case of hazards or emergencies. Onsite implementation included coverage of most of the chemical facility, with a specific focus on hazardous areas. Included in the implementation were custom-delineated hazard zones and multilevel location detection.
The customer commented that the user assistance button on the tag was impressive, saying, "Even if we're able to save the life of one employee, the purpose of the technology has been achieved." It adds an extra layer of security for personnel.
At the Middle East facility of a global oil and gas company, the challenge of location monitoring was primarily around contractors who were widely employed in one area of the facility. Scheduling these contractors was challenging because they were only allowed onsite if accompanied by an employee. Using the location monitoring tags, the facility could automate safety mustering, add geofencing to hazardous areas and provide safety alerts. The facility plans to add its permit system by automating issuance and closure. Once data from this first implementation is evaluated, the company plans to deploy the system at other sites, including remote well site locations.
Looking to the future
Keeping employees safe is not temporary; it's an ongoing effort that won't change once COVID restrictions are lifted. What has been learned during the pandemic is that technology can provide valuable long-term benefits when applied to short-term problems.
Once COVID restrictions are lifted, the location monitoring and geofencing technology will continue to reduce the risks of injury or exposure and will be an integral component of meeting safety and compliance regulations. The pandemic accelerated the adoption of digital transformation plans, and it is anticipated that location monitoring technology will become more integrated in those plans. Because of its modular nature, the tool can be implemented in both small areas and across a facility. It is a tool that can be adapted to fit a facility's needs while keeping personnel safe from harm.
Image credit: ©stock.adobe.com/au/kichigin19
---