Sponsored
Safety and the sewage pumping station
---
Today's "conventional" sewage pumping station consists of a wet well with submersible pumps at the base of the pit. A connected below ground valve vault will generally house the non-return valves, and the electrical controls will be in a waterproof cabinet nearby. This has been the "standard" for many years, and remains that way because capital costs are generally lower than other alternatives, and the fact that convention is very difficult to change.
But because they are the convention, does not make submersible pumping stations the safest option, nor does it necessarily mean they are the most cost effective over the life of a pumping station asset.
The conventional sewage pumping station
So what are the risks associated with performing work at a sewage pumping station? ANY work required, comes with risk. Whether un-clogging a blocked pump, replacing worn or broken parts, replacing or repairing guide rails, repairing or replacing discharge elbows or working on valves.
So, why are there risks associated with these tasks? Because all or most of them require removing the safety screens, "working at heights", "working over water", "working with heavy swinging weights", "working with cranes", or "working in confined spaces".
Working with cranes
Working in confined spaces
If we were to apply the "Hierarchy of Controls" to this issue, the most effective and sustainable solution is to eliminate the risk. But instead of doing this, these risks are generally handled by engineering, increased administration and the use of PPE. Some of the methods include: installing permanent anchor points for attaching personnel to, installing bigger and better safety barriers, creating rules about the use of PPE, training, supervision, the creation of logs and better risk assessments.
For a clearer image, click here.
Is there a safer solution?
The bulk of these risks can be eliminated by "bucking" convention and using a different system. A self-priming centrifugal pump system can be mounted on the surface, outside of the wet well, and ELIMINATE all of the risks mentioned above. This is because safety screens never [or very rarely] need to be removed, because all problems associated with pumps or valves have now been transferred to the surface.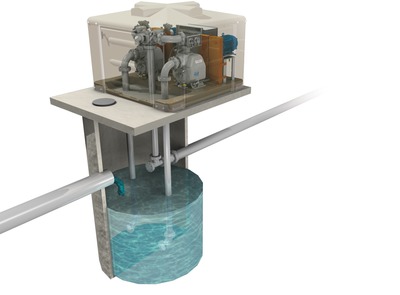 A self-priming sewage pump station is easily accessed for maintenance or repair
Resistance to change
Although moving to a self-priming system eliminates these risks, there is an underlying resistance to change. People have "always done it this way", and see change as difficult. Others may look no further than the capital costs, and are not prepared to pay the difference between the "conventional" and the safer alternative. If these same people could look further than the purchase price and a superficial look at maintenance costs during a "net present value" calculation, they may see that the returns in maintenance savings, reduced participation and a longer asset life will swing the cost pendulum back in favour of the above ground option.
Being safer is cost effective
When using a quality self-priming wastewater pump, like the Gorman-Rupp Super T series or Ultra V Series, asset owners are investing in the future. Above ground pumping stations built with these pumps offer years or even decades of reliable, cost effective pumping that is the safest for operators to maintain. Less personnel are required to attend a Gorman-Rupp pump station because all pump maintenance can be done SAFELY by one person, leaving others to attend to other tasks. This style of pump station also lends itself to preventative maintenance routines which assist in extending asset life and increasing intervals between major overhauls.
Safe, easy maintenance
Above ground pumps are easily accessed, and well designed ones are very easy and safe to maintain. Adjusting internal pump clearances helps to keep pumps at their peak operating efficiency, but it also slows the rate of wear and reduces the changes of blockages by stringy materials such as rags or wet wipes. Adjusting the internal clearances on a Gorman-Rupp pump is done in just a few minutes by one person with two spanners, without having to open safety screens and without even having to open the pump.
Adjusting the internal clearances on a Gorman-Rupp Self-Priming Wastewater Pump is safe and simple
Removing blockages on "conventional" pump stations is time consuming and requires the removal of safety screens, deployment of cranes and the use of barriers etc. Removing blockages from a Gorman-Rupp pump is done quickly and safely by one operator by just removing the inspection cover-plate. Major overhauls are also simpler, and safer, because all the work is done on the surface and can be done without the use of cranes.
A blockage safely removed [no open safety screens]
A simple design creates safer and easier maintenance
Doing work on valves in the conventional valve vault also comes with risks. Operators are exposed to wet, damp conditions which attract insects and vermin. They are also places that slips and falls can occur because operators need to descend into them to perform any maintenance. It is a much easier and safer proposition for operators to access and maintain valves in an above ground pump station. Because of this, valves are much more likely to receive preventative maintenance, extending asset life and extending periods between major overhauls.
A submersible pump valve vault could look like this
An above ground station offers a much safer environment
Upgrading to an above ground station
If a municipality has an existing "wet-well/dry-well" pump station or is looking to upgrade the flow of an existing submersible pump station, this is an ideal time to go "surface mounted".
If upgrading a wet-well/dry-well, the existing wet well can often be used, with all other areas decommissioned. The self-priming pump station can be located at ground level, with suction lines "cored" through existing infrastructure to locate in the existing wet well. This can save the substantial costs of building a new wet well. If the suction lift is too high for self-priming pumps, the pumps can always be located at "motor gallery" level, still allowing the decommissioning of tight, cramped and unsafe dry wells.
If upgrading a submersible pumping station because an increase in flow requires larger pumps which cannot fit the existing infrastructure, Gorman-Rupp pumps can be located on the surface with only the suction lines needing to enter the wet well. Old guide rails and discharge bends can be decommissioned, and the new pump discharge lines can easily hook up to existing rising mains. This also means the existing valve vaults can also be decommissioned, replaced with easy to access pumps and valves. Asset owners and operators are then left with pumps and valves that are safely and easily accessed for routine maintenance. Their new asset will not require safety screens to be lifted, or cranes to be deployed, or operators to work in confined spaces.
More information on above ground pumping systems may be obtained from Hydro Innovations at info@hydroinnovations.com.au
Image credit: ©stock.adobe.com/au/navintar
Related Sponsored Contents
---