'Snacktivism' delivers snacks to Melb and Syd
---
The Snacktivism campaign is spearheaded by Cracker Barrel and follows a report commissioned in November 2019 into Australian employee attitudes to workplace wellbeing and the role that social gatherings among colleagues could play in bolstering workplace culture. For the report — titled 'The facts on snacks report' — an Australian worker representative sample of 1000 respondents was recruited. The findings of the report, it is claimed, offer credence to the idea that group snacking can benefit employees and the workplace culture.
Key findings of the research include that more than one-third (35%) of respondents indicated that their company was not doing enough to improve workplace wellbeing, with close to three-quarters (74%) also reporting that work get-togethers over snacks increased their happiness and sense of connection in the workplace. Of those included in the study, 29% reported that their company regularly organised Friday afternoon snacks. This campaign, therefore, sets out to remedy this for the period of its run, presumably with the aim of encouraging long-term commitment from employers to organise similar snack get-togethers for workers.
The campaign starts on Friday, 29 November with free snack packs being delivered to offices in Melbourne and Sydney that had registered to take part. It will run for three Fridays over a three-week period, concluding on Friday, 13 December 2019. Dr Tim Sharp, a wellbeing expert, has endorsed the spirit of the campaign, highlighting the benefits of initiatives such as workplace-organised snacks, which can help improve happiness within the workplace.
"The Snacktivism campaign is a fantastic chance for employees to organise snacks for their office and for all to reap the rewards," Sharp said. "The benefits of spending time with colleagues over snacks are often overlooked. It can drive stronger collaboration between teams and encourages employees to connect with other coworkers who you might not normally engage with on a daily basis." Cracker Barrel is part of the Saputo Dairy Australia group of brands, whose Head of Marketing, Mike Murray, said about the campaign: "We know snacking brings people together and we're passionate about fostering connectivity and helping colleagues become friends in workplaces across Australia.''
The commissioned report into workplace wellbeing also found that emails were a key factor of disconnection among colleagues, with close to half (46%) of the study's respondents citing an over-reliance on emails as the main mode of communication within the office as impacting on their ability to develop meaningful workplace relations. Further, 44% reported that "they feel crunched by the pressure of tight deadlines" while 36% believed that there was "no time to socialise", according to the online summary of the report.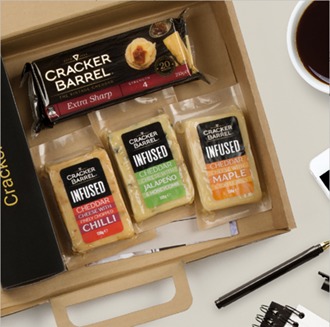 Offices wishing to take part can order snack packs here, which can be made up into cheese boards for workers to share. Orders need to be placed by 7 pm on the Wednesday before delivery, and are only available to office workers in Melbourne and Sydney, stocks pending. More information on the Snacktivism campaign together with campaign resources is available here.
Top image credit: ©stock.adobe.com/au/fizkes
---